The Pittsburgh Perl Workshop is a low-cost technical conference held at the University Center on Carnegie Mellon University's Oakland Campus. The workshop will be held on October 13–14 2007. You can sign up for the announcement mailing list at Google Groups.
Latest News
07/15/08 PPW 2008 Site is now live (update your news feeds)
06/18/08 YAPC::NA 2009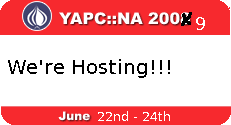 As many of you have heard by now, Pittsburgh has been chosen as the 10th anniversary site for the Yet Another Perl Conference, North America (YAPC::NA) in 2009.
Currently, our plans are to proceed with PPW 08 this October. However, we do not plan to host a PPW in 2009. Instead, we encourage everybody to keep an eye on Columbus.pm. They have let us know that they are interested in hosting Perl Workshop possibly some time in the spring.
04/17/08 Mark your calendars.
The tenative dates for PPW 08 have been set for October 11th and 12th, 2008. The event will be taking place at Carnegie Mellon University. We are currently in the final stages of reserving the rooms and locking in those dates.
03/27/08 PPW '08 is in the works!
We have been working with our partner, the Carnegie Mellon University School of Computer Science to secure our venue and dates for the 2008 Pittsburgh Perl Workshop. Now, we are very close to having our reservations locked in.
Currently, we think that the event will happen in mid-October. We will announce the exact dates after our venue has confirmed our reservations.
It isn't too early to start thinking about sponsoring PPW '08. Prime sponsorship opportunities, such as room naming rights, usually go fast. Please contact sponsors@pghpw.org for more information.